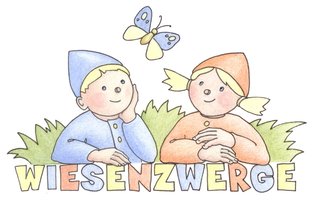 Our two children Frida and Findus are hiding behind the name "Wiesenzwerge". They are lucky enough to grow up in the "Wiesenweg" (a German street) in our small village in the wonderful Uckermark 100 km north of Berlin. We spend a lot of time in the nearby meadows ("Wiesen" in German) – this is why our little ones ("Zwerge" in German) quickly became "Wiesenzwerge". Our cat Lotte has recently joined us as the third little Zwerg.
As a mom, I am always looking for new ideas for the kids and their nursery. Since I became a parent, I started sewing clothes for the children, pretty accessories or small gifts for friends from time to time.
When my daughter was half a year old, I suddenly realized: I could not recollect the feeling of holding her in my arms as a newborn! Of course, I remembered it somehow, but I could not really feel it anymore! The grandparents were right when they said that the little ones grow up too fast and that the memories of the first time with them will fade away. How are you supposed to imagine 12 pieces of butter for a 3 kg baby? I therefore decided to create my own personal memory. It was supposed to make me feel what it was like to hold my daughter in my arms for the first few days. I sat down at the sewing machine and fiddled about for a long time which resulted in the simple, yet very meaningful design of the birth cushion. In the following time I made many more for friends and their babies. Everyone was thrilled! With each birth cushion I further developed and improved the details such as material selection, lettering, filling, etc.
We quickly realized that previous providers of baby gifts do not offer this type of highly personalized memory and we founded the "Wiesenzwerge". However, since I really love my actual job as a speech therapist and cannot make all the "Zwergenrolle" birth cushions myself, we developed the cooperation with MOL Lebenshilfe, a workshop for people with disabilities.
Our first products that you can order here in the shop are "Zwergenrolle" birth cushion and "Zwergenball" kids ball. However, there are many more great ideas waiting to be realized.