"How nice that you were born – otherwise we would have missed you very much…"
Birthdays are always something very special – a great birthday crown should not be missing!
A lovingly handcrafted gift and a wonderful birthday ritual for your family.
After each birthday, the number button can be easily changed using the attached Velcro fastener.
The birthday crown grows with you! Its size can be flexibly adjusted with a strap and therefore fits on every child head – also fits on adult heads!
Each of our high-quality birthday crowns is sewn by hand and with a lot of love by Susi & Kaddi – two moms who put a lot of heart and soul into every single crown.
Product details:
Length: 40 cm, height: 18 cm, ribbon length: 18 cm each
Material: 100% cotton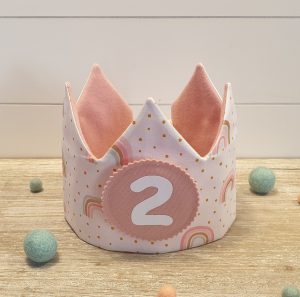 Birthday crown Rainbow
"You don't lose work when you show your kid the rainbow. But the rainbow doesn't wait until you're done with your work."
This birthday crown will make your little princesses even more the center of attention on her birthday. Celebrate her and keep telling her that she is very special to you.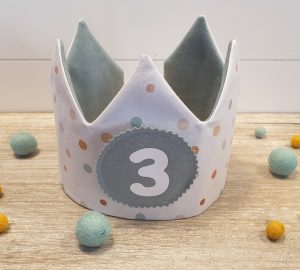 Birthday crown Spot Love
"Only those who grow up and remain a child are human." Erich Kästner (who also wrote "Pünktchen und Anton")
A sweet, timeless and neutral design for girls and boys in soft pastel colors, which will still look good on your 100th birthday.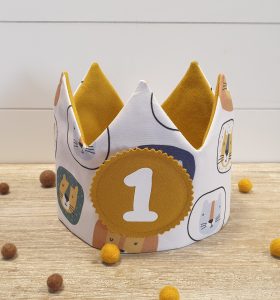 Birthday crown Lion King
Are you adventurous, spirited and warm-hearted – just like the king of the beasts?
Then wear this birthday crown with pride because your birthday is the day YOU are king.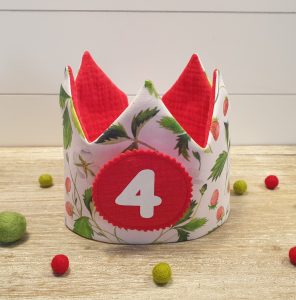 Birthday crown Berries
Fruits ripen in the sun, children ripen in love.
A birthday table in the countryside, sunshine, your loved ones around you and a strawberry cake – could there be a nicer birthday? Our birthday crown "Berries" with a playful strawberry pattern will please everyone who loves strawberries!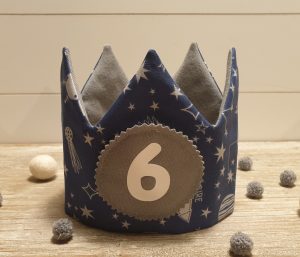 Birthday crown Spaceman
"To infinity and beyond!" Buzz Lightyear
Do you want to achieve great things, have a thriving imagination and dream of making the impossible possible?
Then this birthday crown is just right for you!