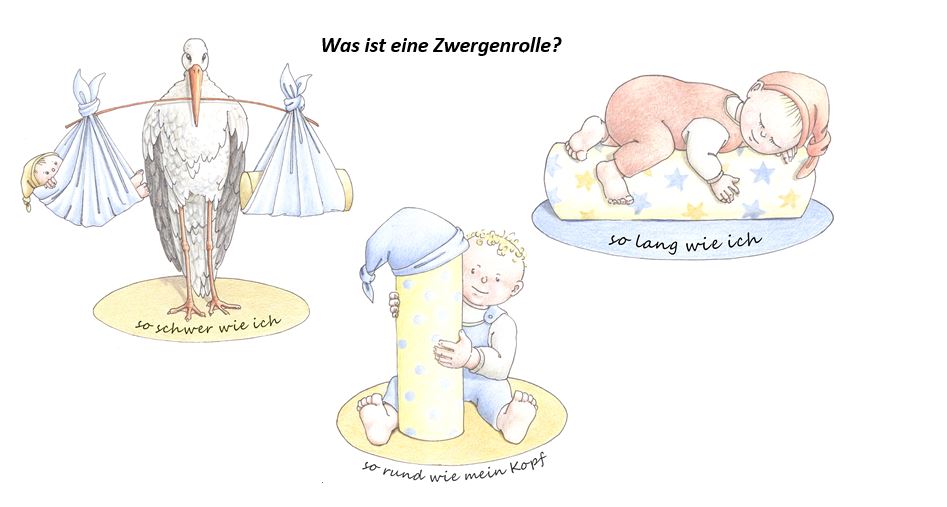 "Zwergenrolle" birth cushion - what is it?
A "Zwergenrolle" birth cushion is your very personal memory of your baby.
"Oh, how time flies!" "The little ones grow up so fast!"
All too quickly, you forget how small the children were. Your "Zwergenrolle" birth cushion will always remind you what it was like to hold your baby in your arms. Its dimensions correspond exactly to the size of your baby when it was born. It is as long and heavy as your baby was on its first day of life.
The circumference reflects the size of your baby's head. It is made individually just for you and your baby!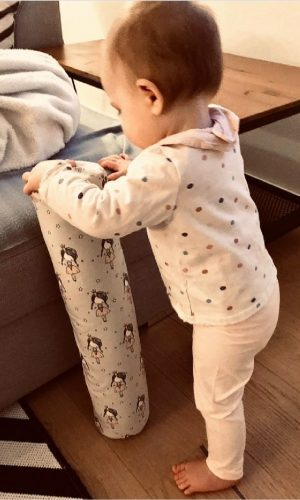 Each "Zwergenrolle" birth cushion consists of an inner roll and an outer cover. The inner roll which is made of natural-colored ticking material is filled with soft cotton wool and fine quartz sand.
The outer cover is equipped with a zipper, making it removable and washable. Your baby's measurements as well as its name, date and time of birth are printed on the sides. Thanks to our large selection of materials, which
we will continuously expand, there is a suitable design for every taste! Due to
the individual production, unusual birth measurements can also be realized (such as for premature babies, very large babies or star children ).
Parents do not just value their "Zwergenrolle" birth cushion as a personalized reminder. They also love it as a decorative element for the nursery or for storing the baby in the first few months.
The warm, soft materials both babies and parents like to cuddle up to. In many children's beds, you can find them at the head and foot end or on the side as a limitation. In the monthly pictures so popular today, the development of the baby looks even more impressive in addition to the Zwergenrolle "birth cushion"!
Of course, the Zwergenrolle "birth cushion" is not only perfect as a birth gift. Also for baptism,communion, confirmation, youth ordination or for your 18th birthday, it is a very special gift for young and old and will awaken touching memories.
"Zwergenrolle" birth cushion has been tested by papa.de and has been awarded the seal for product innovation. You can find the article here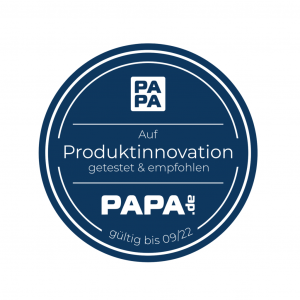 It is your individual keepsake to remind you of that feeling when you held your baby for the very first time. It represents the newborn´s actual length and weight on the day it was born. The scope of the cushion resembles the scope of your baby´s head.
Besides being a personalized remembrance, you can also use your birth cushion to position your baby or to decorate your child´s room. It is not only a beautiful birth gift but also a wonderful surprise for birthdays, mother´s day, father´s day, Christmas or just for inbetween.
The "Zwergenrolle" birth cushion consists of an inner pillow and a pillowcase. The inner pillow is made of natural-coloured tick fabric and stuffed with soft cotton wool and fine quartz sand. The pillowcase has a zipper which allows you to take it off and wash it.
Of course, we only use certified fabrics. This ensures that they do not contain any hazardous ingredients that could be harmful to your child's health. Our fabrics meet at least the Ökotex Standard 100, product class 1, and some of them are even GOTS-certified organic fabrics.
Of course it is! We will be happy to make your "Zwergenrolle" birth cushion from your own fabric. That way it becomes even more personal. Simply order the product "Zwergenrolle" birth cushion made from YOUR favourite fabric" on the website and send us your fabric. We will send you the shipping address after having received your order.
Please note: Your fabric must not be stretchy and not too thin/fine. It should also be without obvious signs of use. Please iron it beforehand.
We will need the following measurements with an additional 10cm of your fabric:
Length: as long as your child
Width: head circumference
We can either combine your fabric with white side panels or you can send us a fabric for the two side panels as well. These two fabric pieces must each be at least 17×17 cm.
Each "Zwergenrolle" birth cushion is custom-made. It is your unique product. Therefore, unfortunately a return is not possible. If you are not satisfied with your product, please contact us and we will find a solution.
Of course! Just enter the address of the person you want to give the gift to as shipping address and we will send the "Zwergenrolle" birth cushion directly to them – even gift-wrapped! Having ordered it, you will receive the invoice by email.